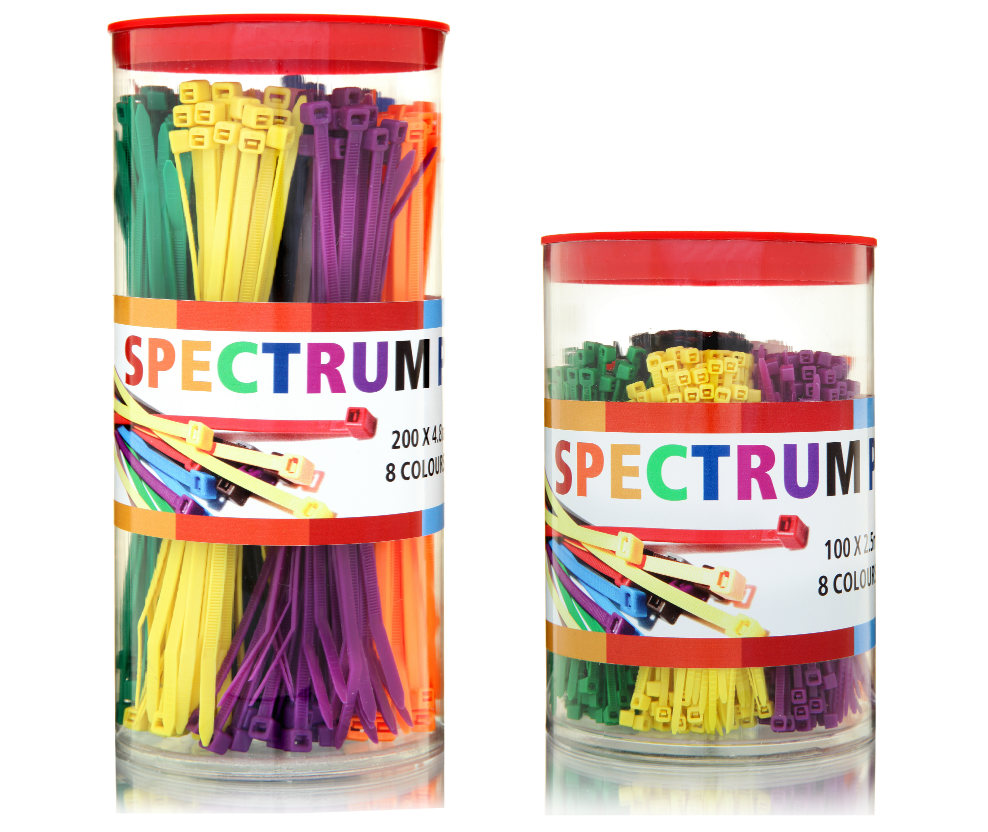 Our Spectrum Packs are available for immediate shipping in two sizes as above:
100mm x 2.5mm containing 100 x black, natural, red, blue, green, yellow, orange & purple (800 total).
200mm x 4.8mm containing 40 x black, natural, red, blue, green, yellow, orange & purple (320 total).
Not every end user wants to have an individual bag of cable ties for every colour. Knowing this we now offer a high quality, plastic, re-sealable tube containing all of our standard colours. The cable ties are still made from high quality virgin Nylon 6,6 which can be tightened by hand or using a tensioning tool.
• Material: Virgin Nylon 6,6 (Zero Halogen + Low smoke and fume)
• Flammability Rating: UL94-V2
• Military Specification: 23190E
• Working Temperature: -40 to +85
• ROHS - 2002/95/EC
• ELV - 2000/53/EC
• WEEE – 2002/96/EC
• Product Attributes
1. Brand: Unbranded
2. Description Nylon Cable Tie
3. Length 200mm
4. Spectrum Pack 320 pcs
5. Type 8 Colour Mixed Pack
6. Unit of Measure Single
7. Width 4.8mm
8. Our coloured cable ties are tested at random by an outside testing company and must always conform to the minimum tensile strengths below:
2.5mm Wide Ties – 8.1kg (18lbs)
3.6mm Wide Ties – 18.2kg (40lbs)
4.8mm Wide Ties – 22.2kg (50lbs)
7.6mm Wide Ties – 54.4kg (120lbs)
9.0mm Wide Ties – 79.4kg (175lbs)
13mm Wide Ties – 114kg (250lbs)
Black Cable Ties always recommended for outdoor use, due to higher carbon content. UV Stabilised cable ties also available.