Simple Green Crystal
Crystal Simple Green Industrial Cleaner and Degreaser is a transparent and odorless industrial-strength cleaner and degreaser.
Powerful formula for applications that require critical cleaning and demand a true high performance.
This highly dependable cleaner is non-abrasive, non-ionic, ph neutral, non-flammable, and biodegradable.
A perfect cleaning solution for a variety of industries where safety and sanitation are important considerations.
Clean-rinsing, highly concentrated, and cost-saving, Crystal Simple Green is the sound option for food processing & handling, compressed air and gas, manufacturing, electronics and parts washing industries, cutting through tough oils, grease, layered dirt, grit and grime, and diverse residues without aggressive or volatile chemicals.
The formula is NSF labeled A1, A2, A4, A8, B1, and C1 for use in commercial kitchens, food processing plants, and similar areas where food is prepared or handled.
It is able to validate below 10 parts per million in rinsability requirements for cleaning in medical pharmaceutical and cosmetics environments where Good Manufacturing Practices (GMP) are followed.
OSHA exempt from special handling and personal protection requirements, Crystal Simple Green is a safer alternative to caustic cleaners and solvents.
• No added color or fragrance.
• NSF A1, A2, A4, A8, B1, C1.
• NATO Stock Number 7930-01-418-1153 (5 Gal), 7930-01-418-1155 (55 Gal).
Applications
• As per NSF registration, opportune as a cleaner for use in food processing, in kitchens and smoking cabinets, on floors, walls, appliances, and uniforms in the laundry.
• Ideal for a wide range of industrial applications, maintenance and repair, food processing, commercial kitchens, cosmetics, pharmaceuticals, electronics, compressed gas industries, and many more.
• Powerful cleaner for removing grease, oil, dirt, and dry residues from devices, machines, and parts.
• The concentrate can be diluted in different ways and thus adapted to each application (e.g. also for use in automatic scrub suction machines, immersion cleaners, carpet cleaners, high-pressure cleaners, parts cleaners, foam devices, etc.).
• Contaminants are rinsed off the surface with zero residues left behind making Crystal a perfect choice for surface prepping or cleaning prior to coating, painting, or varnishing.
• Powerful at removing dirt, yet gentle enough for regular use in the maintenance of machines, devices, and floor surfaces.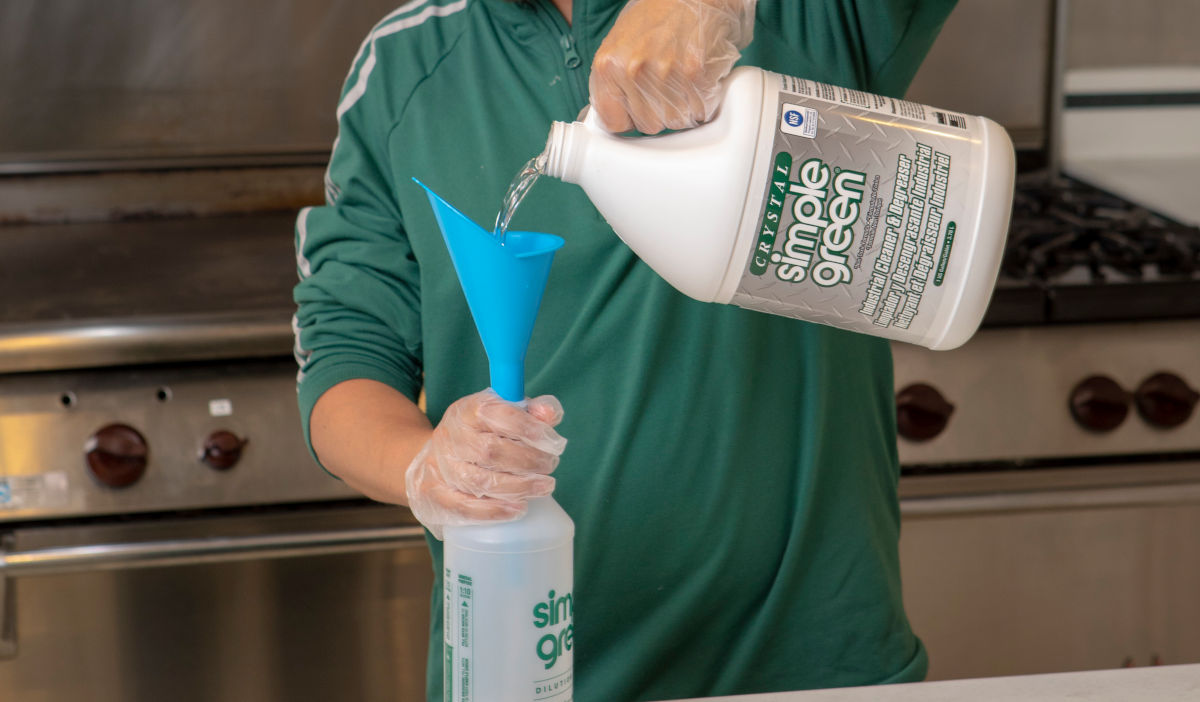 Contact us now to order Simple Green!