Description: (Ref: SRT33MBL) Tradesman Standard 168 Combo Blue includes 3 Rectangle + 3 Curvy Blades. Holder fits both curved and rectangle blades.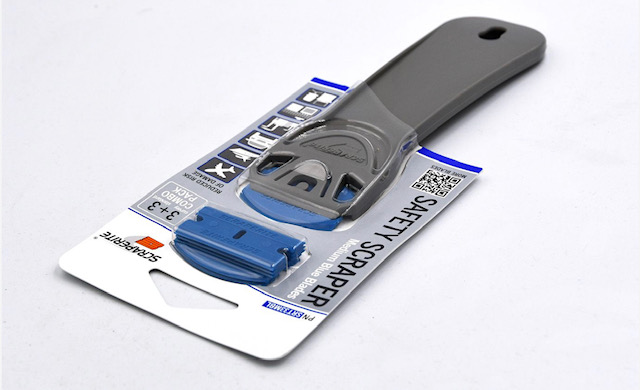 The longer handle provides better reach and more comfort in any household or professional setting.
At nearly 7" overall, with a curved blade inserted, it has better reach for corner access on window glazing and for scraping everything from bumper stickers to removing tough paint spatter.
These Medium Blue safe scraper blades can resit most household and industrial chemicals while maintaining a predictable performance characteristic that resembles a fingernail. They are ideal for use on delicate surfaces like aircraft, yacht, bicycle, motorcycle, auto paint, wood and plastic furniture, stovetops and counter tops, kitchen ware, and much more. Ideal for sticker removal and scraping dead bugs, tar and road grime, candle wax, crusted food. Scraperite plastic razor blades are also approved for use on aircraft alloy airframes and composites. Highly chemical resistant.
Plastic razor blades should always be used with an appropriate solvent considering three key elements. Substance to be removed, surface to be cleaned, and solvent to be used. Plastic scraper blades are resistant to many household and industrail solvents and cleaners. For best results use an appropriate solvent or a mild soapy water solution when scraping on any surface.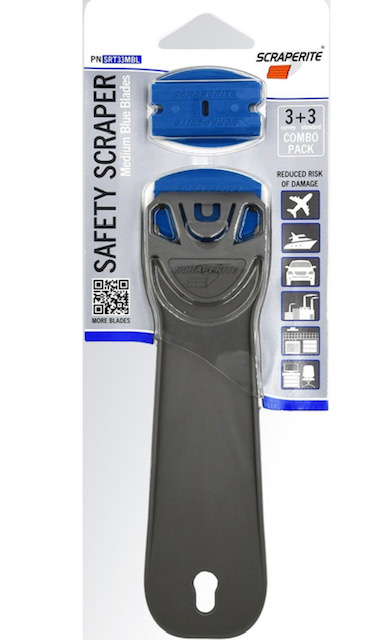 Scraperite are recyclable plastic razor blades.

1. EASY BLADE REPLACEMENT
Patent pending blade release system makes blade flipping and replacement a breeze.
2. CORNER REACH
Trimmed holder angle effectively provides more blade reach into corners.
3. DUAL BLADE SYSTEM
Cleverly accommodates both curved and rectangle blades.
4. STRENGHTENED
The prestressed curve and thick extra ribbing provide increased leverage and torque at the blade edge.
5. ERGONOMIC
Sloped palm section makes a smooth connection with the back of the hand.
6. EXTRA REACH
Longer handle for increased, reach, performance, and power.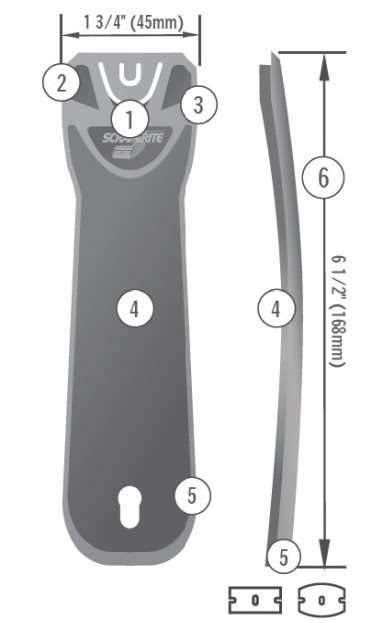 PACKING FORMULA
Uniform packaging system for all Scraperite products ensures simplicity by working in dozen unit counts; 12 units per Inner Box and 4 Inner Boxes per Case Box.